This page introduces our efforts to ensure that Sakata Seed Corporation products can be used with peace of mind. The quality of seeds and plants cannot be determined by appearance alone. In order to deliver high-quality seeds and plants to our customers, we engage in various efforts to meet expectations in all processes such as research and development, production, logistics, and sales.
Contributing to a better life
Since our founding in 1913, we have believed that our job is to contribute to affluent life through seeds and plants. The seeds that we produce are cultivated by growers and transform into vegetables and flowers, which are significantly related to the lives of all people.
In this way, a seed company is actually the business that is most closely related to daily life. In that respect, we believe that stably delivering reliable seeds and plants in all eras is extremely important.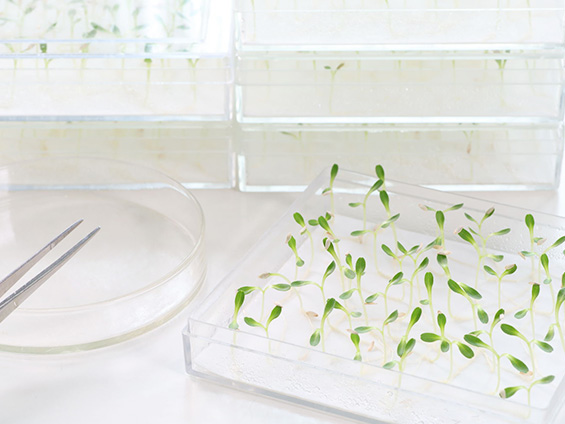 Sakata Seed Corporation's Concept of Legal Compliance
Basic concept of practicing legal compliance
Aiming to be a corporation that contributes globally through seeds
Sakata Seed Corporation's customers are all around the world. Our company aims to carefully protect the Earth's natural environment where people and other creatures coexist. We strive to bring affluence, comfort and excitement to people's lives through the development of safe and high-quality seeds and related products. We also respect diverse humanity, regional differences, ethnicity, and culture, and aim to be a corporation that contributes to people and society throughout the whole world.
Conducting corporate activities in compliance with ethics, laws, regulations
Sakata Seed Corporation complies with laws, regulations, social ethics, and internal rules both in Japan and overseas. Our presidents and managers take the lead in setting an example. Furthermore, each employee always endeavors to improve their social decency through their work, and positions compliance with ethics, laws, and regulations as the basis of their actions.
Providing Quality, Reliability, and Service
Sakata Seed Corporation understands the spirit of Quality, Reliability, and Service which has been the company motto since our founding. Based on this understanding, we provide products and services which bring happiness to our customers. By developing unique high-quality products, engaging in reliable behavior that is the basis of trust, and conducting fair transactions, Sakata Seed Corporation will receive appropriate profits, contribute to society, and be of service to our customers.
Aiming to be a company that is always transparent
Sakata Seed Corporation actively discloses information. Taking a comprehensive view of customers, shareholders, and society as a whole, we humbly accept opinions and provide accurate and useful information in a timely manner. We aim to be a company that is always transparent and open for two-way communication.