Introducing some of the greatly honoring awards and medals awarded for individual and corporate activities. Also introducing the awards won in contests and international horticulture exhibitions.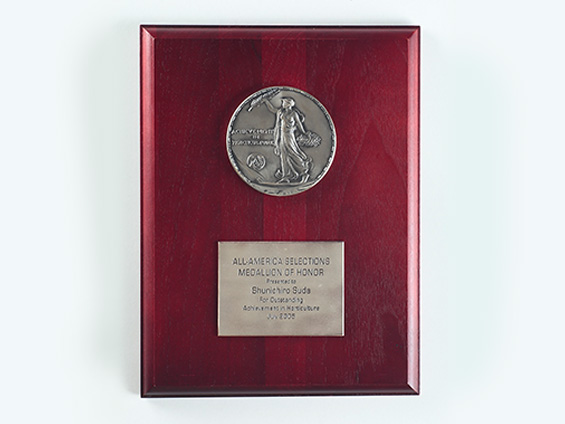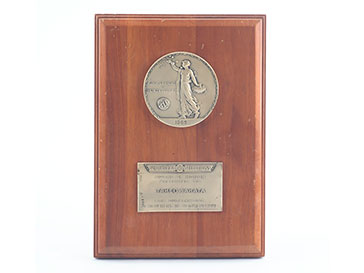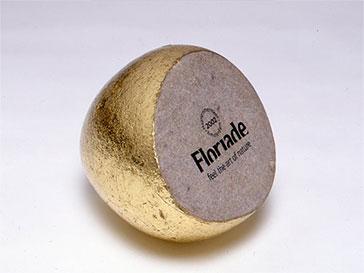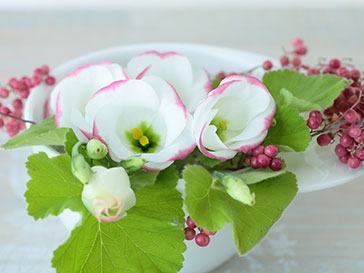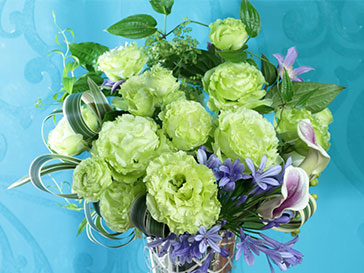 Individuals
Some prizes or winning breeds may not be shown due to space limitations.
The names of the winning breeds are current as of the award date. Thank you for your understanding.
2023

Award Winner: Hiroshi Sakata (President)
Awarding Body: All-America Selections
Award: All-America Selections Medallion of Honor

2022

Award Winner: Hiroshi Sakata (President)
Awarding Body: The Cabinet Office
Award: The Order of the Rising Sun, Gold Rays with Rosette

2019

Award Winner: Kazutoshi Mori, Noboru Sase (representative of Sase Farm), Shingo Horiuchi, Akira Nishio
Winning Entry: Development of Lisianthus with excellent shelf life and transportability.
Evaluation of deformed pistils (AMBER double series) and pollen free (Solo series)
Awarding Body: Ministry of Agriculture, Forestry and Fisheries and Public Interest Incorporated Association Agriculture, Forestry and Fisheries / Food Industry Technology Promotion Association
Award:
・2019 (the 20th) Commendation for Persons Achieving Research and Development in the Private Sector
・Agriculture, Forestry and Fisheries Minister's Award
・Horticultural Achievement Award

2017

Award Winner: Hiroshi Sakata (President)
Awarding Body: The Cabinet Office
Award: Medal with Yellow Ribbon

2016

Award Winner: Hiroshi Sakata (President)
Awarding Body: The Ministry of Agriculture, Agrifood, and Forestry of France
Award: Order of Agricultural Merit, Chevalier (L'ordre national du Mérite Agricole, Chevalier)

2012

Award Winner: Hiroshi Sakata (President)
Awarding Body: The Ministry of Land, Infrastructure, Transport and Tourism
Award: Awarded by the Minister of Land, Infrastructure, Transport and Tourism

2008

Award Winner: Masao Bessyo
Awarding Body: All-America Selections
Award: All-America Selections Breeder's Cup

2005

Award Winner: Shunichiro Suda (Senior Managing Director at the time)
Awarding Body: All-America Selections
Award: All-America Selections Medallion of Honor

2002

Award Winner: Hideo Takahashi (President at the time)
Awarding Body: The Ministry of Agriculture, Agrifood, and Forestry of France
Award: Order of Agricultural Merit, Officier (L'ordre national du Mérit Agricole, Officier)

1965

Award Winner: Takeo Sakata (The founder)
Awarding Body: All-America Selections
Award: All-America Selections Medallion of Honor
Activities
2008

Award Winner: Sakata Seed Corporation
Awarding Body: The Invest in France Agency
Award: 2008 the 5th Invest in France Agency Award
Contests/International Horticultural Exhibitions
2022

Winning Entry: Lisianthus Rosita 3 Pure White
Award: International Horticultural Exhibition 2022 Almere (The Floriade 2022) Lisianthus Category Golden Award

2012

Winning Entry: Lisianthus SM0-1065(Winning Entry: Fours Fours White)
Award: International Horticultural Exhibition 2012 Venlo (The Floriade 2012) Lisianthus Category First Award (Top Award)

Winning Entry: Lisianthus Rosanne Green
Award: Awarded the New2Market Award at Horti Fair 2012 (Holland) Interpolis Quality Cup Variety Contest


2008

Winning Entry: SunPatiens
Award: Society of American Florists (SAF) (USA) Top Award

Winning Entry: SunPatiens
Award : Four Oaks Trade Show (England) Top Award

2006

Winning Entry: SunPatiens
Awarding Body: Euroflora
Award:
Euroflora, Top Award, Bedding plants performance
Euroflora, The Superior Overseas Breeding Variety Award
Euroflora, The Superior Variety in the Impatiens Category

Winning Entry: Petunia Explorer
Awarding Body: Royal Horticultural Society (RHS)
Award Winner: Award of Garden Merit

2004

Award: World Horticulture Fair (Holland), Best Lisianthus Exhibition Award

2002

Award Winner: Sakata Seed Corporation
Winning Entry: Lisianthus grandiflorum Cute Blue Piicoty
Award: International Horticultural Expo 2002 (The Floriade 2002 in Haarlemmermeer) : Keurings Commissie (FKC) Gold

2000

Award Winner: Sakata Seed Corporation, Japan Seed Trade Association
Winning Entry:
・Lisianthus Cute Snow
・Gerbera Lavender pink Lind
Awarding Body: International Gardening and Landscaping Exhibition "Japan Flora 2000, Japanese Committee"
Award: Japan Flora 2000, International Gardening and Landscaping Exhibition, Greenhouse Cut flower, Gold Medal

Winning Entry: Osteospermum
Award: Japan Flora 2000, International Gardening and Landscaping Exhibition Bedding plants, Merit Award

Award Winner: Sakata Seed Corporation
Awarding Body: Organizing Committee of the World Flower Exhibition Koyang (General Incorporated Association), Korea
Award: World Flower Exhibition Koyang, Korea 2000 (WFEK2000) Enterprise Award

1993

Award Winner: Sakata Seed Corporation
Award: International Garden Ausstellung (IGA) Gold

1992

Award Winner: Sakata Seed Europe B.V.
Winning Entry:
・Eustoma "Grandiflorum Echo Pure White"
・Eustoma Grandiflorum Heidi Apricot
・Eustoma Grandiflorum Echo Blue Picotee
・Eustoma Grandiflorum Heidi Pink Rim
Award: Hague Zoetermeer International Horticultural Expo 1992 (The Floriade 1992): (The Floriade 1992): Kleurensymphonie Gold

Award Winner: Sakata Seed Europe B.V.
Winning Entry:Viola Crystal Bowl Purple
Award: Hague Zoetermeer International Horticultural Expo 1992 (The Floriade 1992): Violen in de Bloemenloper Gold

Award Winner: Sakata Seed Europe B.V.
Winning Entry:Petunia Hulahoop Velvet
Award: Hague Zoetermeer International Horticultural Expo 1992 (The Floriade 1992): Bomen.Groen.Leven Gold

1987

Award Winner: Sakata Seed Corporation
Winning Entry: Carnation Lillipot Scarlet
Awarding Body: BUNDESGARTENSCHAU DUSSELDORF
Award: Gold

1975

Award Winner: Sakata Seed Corporation
Awarding Body: ZENTRALVERBAND GARTENBAU
Award: Gold

1964

Award Winner: Sakata Seed Corporation
Winning Entry:
・Petunia White Harmony
・Petunia Gesamtsortiment
Awarding Body: WIENER INTERNATIONALEN GARTENSCHAU
Award: Gold